I was looking at Dubai Fashion Week and accidentally landed on a page promoting Swahili Fashion Week. I LOVE fashion and love to see how creative and innovative people from all over the globe can be. I am amazed. Most of the clothing shown technically is not hijabi friendly but they can still be used for inspiration. Here is the official statement for SFweek.
Unveil the newest window in to African Fashion as Tanzania launches its second Swahili Fashion Week!

An eclectic mix of Swahili culture ensconced with chic style; Swahili Fashion week is the dawn of a new era. Initiating a dynamic and promising platform for the fashion industry in Tanzania, the Swahili Fashion Week is a coming together of talented designers from across the country under one stand to showcase their unique and truly African creations. This is not only a potential point for existing designers but also an opportune moment for upcoming aspiring designers in the country.


What's more? This event be at par with globally acclaimed fashion weeks celebrating the spirit of the Swahili Fashion week truly unveiling what makes Africa beautiful.
Apparently the Kanga is the east African equivalent of a Kimono.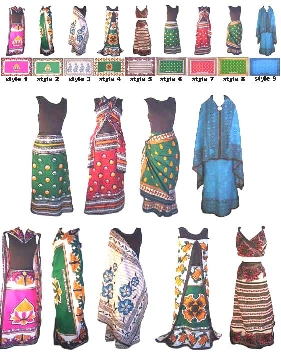 (source)
(source)


Look at those colors! Subhanallah I want a couple of those dresses for myself.
The first one in the front reminds me a little of a Spanish peasant look